Why should a manual practitioner care about your happiness?
Well, we care about it because your state of mind influences the state of your body more than you might think. Moreover, osteopathy is holistic, which means we consider you–the whole of you–to be a piece of the puzzle in getting you healthy again.
What is Happiness?
It can be hard to define, we usually know it feels good, and we want more of it! It's a sense of deep satisfaction, well being, optimism, and meaningfulness in life.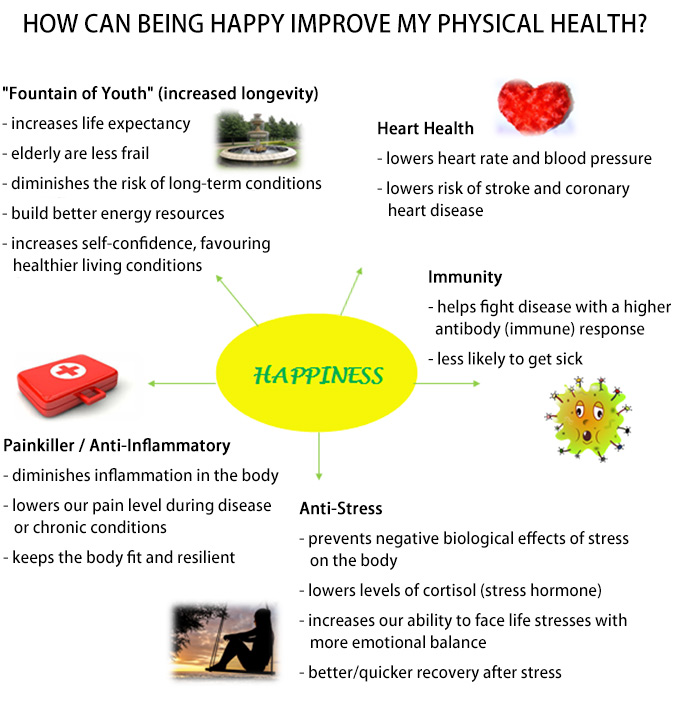 Through new research, scientists are only beginning to understand the connections between our bodies' biology and our psyche. Often, studies focus on diseases and what negatively affects our health, more than prevention.
How Happiness Can be Part of an Osteopathic Treatment
Matthew came to the clinic for a mid back/rib pain on the right hand side. His doctor had found elevated liver enzymes in his blood work and he had been feeling pretty burnt out for the last 2 years, but as the only provider for his family he had to keep working hard. With the down turn in the energy sector in the last couple of years, he explained that for the ones still lucky to have a job, the quantity of work is now exponential. But he felt like he couldn't complain or slow down or he might lose his job too, and his family couldn't afford that. During the treatment, we worked on an old ankle injury, unevenness in his hip muscles and pelvis, then moved on to the visceral part of the treatment, and finished with the improvement of the movement of his rib cage and upper body. A typical treatment you'll tell me!
One amazing part of this treatment wasn't just the hands on part; it was the discovery that once upon a time Matt loved fishing, and use to go at least once a week ("you know before the kids and responsibility at work"). He even used to play guitar in a band and loved it! Why is this so important? Because in order to find better balance in our life we need to find a way to be in the moment, a healing state that allows you to recharge your battery for your brain and body's health. This is a state where the brain is on pause, and the burdens are imperceptible, not ignored, which gives us a breath of fresh air. Matthew made a conscious effort to take time weekly to do what makes him feel happy and energized, and with a couple of appointments, is now feeling better than he has for a while.
So, what about you? What are you passionate about?
What did you use to do that made you completely lose track of time?

What do you need in your life to feel recharged?
Get to know yourself and discover what works for you, as we can't all go fishing to feel joyful!
As always, if you'd like to book an Osteopathic manual therapy appointment with me or my talented clinic partner Raphaëlle Strub, click here.