Amy was born and raised in Lethbridge, Alberta where she first realized her interest in human behaviour and her passion for helping others as a teenager. Upon completing her master's degree in counselling psychology at the University of Lethbridge, she moved to Calgary to begin her career as a counsellor. She has found the city atmosphere and culture of Calgary to be a natural fit for her, both personally and professionally.
Amy has been employed as a counsellor in schools, non-profit organizations, and a post-secondary institution, which has allowed her to work with clients ranging from age twelve to the later stages of life.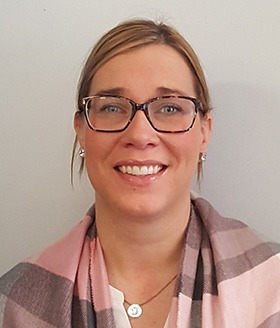 Before pursuing a career in counselling, Amy taught high school social studies which provided her with additional experience in working with adolescents. This age group continues to be a population she greatly enjoys working with.
Amy has experience in working with a wide range of presenting issues including depression, anxiety, trauma, grief, self-harm, emotional regulation, domestic violence, relationship issues, stress management, and communication and assertiveness skills. She has specialized experience in working with clients who have experienced sexual abuse, assault or harassment. Amy believes that counselling should be client-centered and tailored to the individual needs of the person she is working with. She takes a holistic, integrative approach to counselling, drawing on therapies that recognize the mental, emotional and physiological components of wellness.
Travel has been a personal passion of Amy's throughout her life. She has taken a number of trips throughout North America and Europe, with some of her favourite cities being Dublin, Istanbul, New York City, and Amsterdam. Amy's father was born and raised in the Netherlands and visiting there was a trip that held much personal meaning for her. She looks forward to venturing into other parts of the world in the future as she always enjoys interacting with new people and cultures.
Got a question for Amy? Email her at amy@healthybynaturecalgary.ca